The U.S. navy's new generation of signal jamming weapons is nearing completion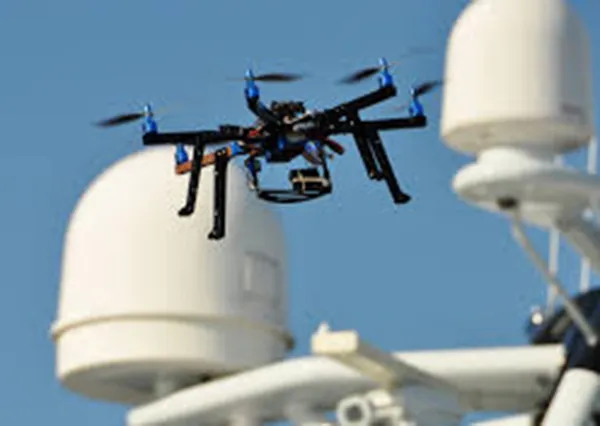 Raytheon's Next Generation
signal jammer
Mid-Band solution was selected by the U.S. Navy in 2013 to replace the legacy ALQ-99 systems used on the EA-18G Growler airborne electronic attack aircraft. In 2016, the U.S. Navy awarded Raytheon a $1B Next Generation Jammer Mid-Band Engineering and Manufacturing Development contract.
DroneShield's other handheld jamming devices, the DroneGun and the DroneGun Tactical, work by blasting drones with electromagnetic noise at the same frequencies the aircraft use for control communications and video transmission.
"The first NGJ-MB pod is out the door," said Stefan Baur, vice president of Raytheon Electronic Warfare Systems. "We are one step closer to extending the Navy's jamming range and capability. Delivery of this pod will allow for the initial verification of ground procedures, mass properties, aircraft installation, and Built In Test checks in preparation for future chamber and flight test."
Also on display at the Bastille celebrations was the futuristic-looking Nerod F5 microwave
cell phone jammer
, a rifle-shaped weapon designed to target drones by blocking the pilot's signals.
The solution features high-powered, agile beam-jamming techniques and solid-state electronics. Its architecture also allows for future upgrades.
Raytheon Company delivered the first Next Generation Jammer Mid-Band Engineering and Manufacturing Development pod to the U.S. Navy to begin ground and aircraft integration testing. Raytheon will deliver 15 EMD pods for mission systems testing and qualification as well as 14 aeromechanical pods for airworthiness certification.
"The first NGJ-MB pod is out the door," said Stefan Baur, vice president of Raytheon Electronic Warfare Systems. "We are one step closer to extending the Navy's jamming range and capability. Delivery of this pod will allow for the initial verification of ground procedures, mass properties, aircraft installation, and Built In Test checks in preparation for future chamber and flight test."