Jamming Large Rang - 14 Bands Jammers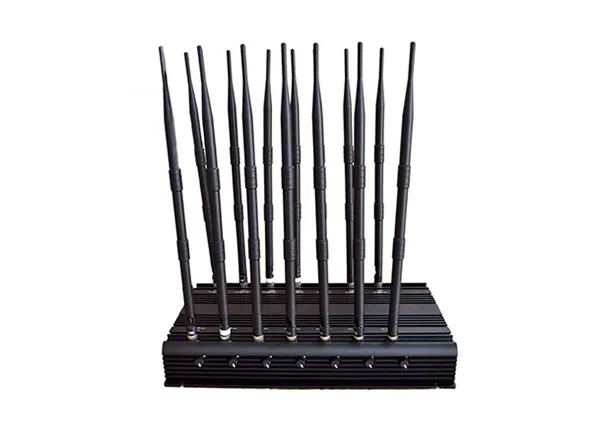 With the popularity of smart phones, now in public places unscrupulous use of mobile phone phenomenon can be seen everywhere. When you listen to light music, enjoy dinner, there will always be annoying ringing sounded. When you are in the cinema and the theater to enjoy the wonderful clips, always hear the voice of the phone camera. When you pray in the church, there will always be a ringing tone to break the tranquility. Of course, we can choose to use technology to avoid these things. For example, jammer technology has become very popular recently.
So, sometimes we need to rely on some means to maintain their own enjoyment of the right quiet. For example, signal jammers.
Desktop Jammers usually can block all cellphone, can be a good guarantee of the surrounding quiet. At the same time, desktop jammers also have a large jamming range, jamming signal stability characteristics. For the user, this is a very good feature.
Application 14 Bands All Cell Phone Signal Jammer
All kinds of examination room, gas stations, churches, courts, libraries, conference centers, theaters, hospitals, military power and other places prohibit the use of mobile phones.
Product Features: 
phone signal jammer
, it is the first choice for school / examination room / prison / office and other places.
1.Can jamming 14 bands, according to the need to control the frequency band to be blocked
2.Has a good heat dissipation system, can work continuously for a long time
3.Jamming range up to 80 meters
CDMA: 850-894MHz
GSM: 925-960MHz
DCS: 1805-1880MHz
GSM: 1920-1990MHz
3G: 2110-2170MHz
GPS: 1570-1580MHz
WiFi 2.4G: 2400-2500MHz
VHF: 135-174MHz
UHF: 400-470MHz
4G LTE: 725-770MHz
315MHz
433MHz
GPS(L2-L5): 1170-1280MHz
4GWimax: 2300-2400MHz
LOJACK: 160-175MHz