The jammers can prevent cheating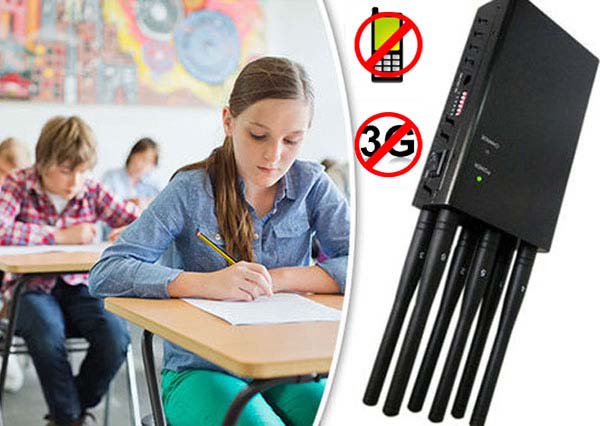 With advances in technology, cheats too have gone high-tech, using cellphones, wireless earpieces and blue-tooth devices to get answers. Many even wear transmitters to examination centres.
In the examination room in India
"The
jammers
will block mobile signals, wi-fi and Bluetooth operation on electronic devices. Once the agency is finalised, the BPSC will approach the Centre for clearance to install jammers," an official said.
The operation of jammers should be the responsibility of the concerned vendor to avoid any local tampering at the examination centre. The jammers effectively disable cellular phones. They transmit on the same radio frequencies as mobile phones, thus disrupting the communication between the phone and the mobile phone base station in the tower. It can prevents students from using the phone.
Though mobile phones have been banned in exam halls, a final year MBBS student of a private college had managed to cheat in a recently held exam through Bluetooth device and a microphone. "We have installed
cellphone jammers
in four examination halls for preventing cheating during exams. Instructions have also been passed to the invigilators to keep strict vigil on movement of students and check suspects thoroughly." the dean said.
In the Japan Kyoto University
Cell phone jammers have come under the spotlight in the wake of recent cheating incidents during entrance exams at four prominent universities, including Kyoto University.
Such
GSM blocker
transmit radio signals in the 800 MHz frequency band, which is used as the mainstream carrier frequency band for NTT DoCoMo's and KDDI's au phones. Products targeting other frequency bands are also available.
At present, the main corporate users of the jammers are the operators of hospitals, concert halls and cinemas, while some banks have also installed the device at their automated teller machines to help prevent "ore-ore" (it's me, it's me) frauds.
In the phone scam, culprits typically guide elderly people via cell phone to send money to the fraudsters' temporary bank accounts, pretending to be close kin or acquaintances suddenly in a financial bind.
According to dealers of cell phone jammers, universities have now been added to the customer list.