DJI UAV Signal Scrambler Device
Drone jammer has Anti Drone Technology offers advanced Drone detection capabilities. This easy-to-operate jammer has an impressive protection range of up to 2 km.

The Perfectjammer has been working on a 'Drone Dome' or 'kill-jammer' - which can 'soft kill' a drone by knocking out its communications or a 'hard kill' by shooting it down with a laser from up to two miles away - and may use this prototypical technology.

Design matters, even when you're defending your airspace from unwanted drones. The UAV Scrambler Drone is fully equipped for battle and is also a 2018 Red Dot Design winner. The jammer has three antennas for directional interference that affect all operating frequencies of consumer drones. The antennas shoot signals that force a drone to return to its base or land, keeping your airspace secure. The jammer itself is made with a strong impact resistance body and a non-reflective matte finish and is designed with the handle and sight acting as the center of gravity to help reduce fatigue and improve accuracy during a drone invasion.
WRJ-02 Drone Gun Jammer 500-1000 meters 1.5GHz 2.4GHz 5.8GHz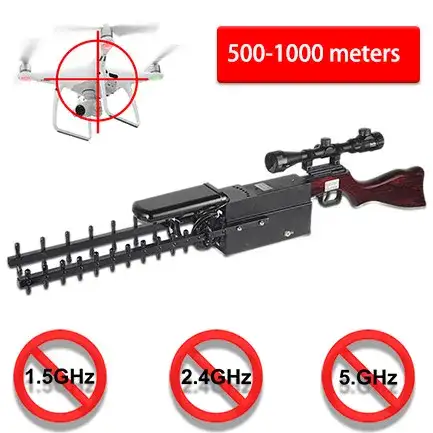 Unique segmented jamming function. Can separate jamming GPS positioning, image transmission and unmanned aerial vehicle (uav) remote control function. When you open the 1.5 G switch, drone will cease to receive GPS signals. At this point, the drone will return go home because it can't receive a GPS signal. When opening 2.4 G and 5.8 G switches, the image transmission and uav control can be disturbed. When you open all the switch, unmanned aerial vehicle will hover and slowly descend. Effective jamming DJI drone even military uavs. Often used for drone control, maintain the venue order, prevent drone smuggling.
$6398.68$11052.89
Waterproof Drone RF Jammer Portable Large Range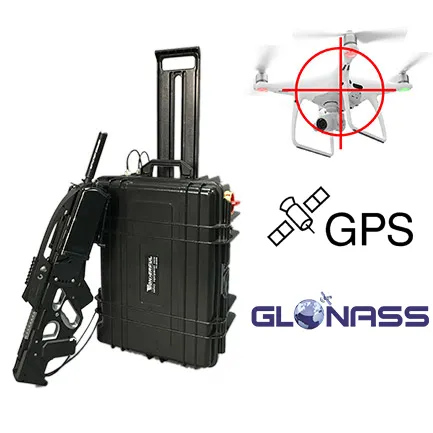 The device is one of the most popular drone jammers. The main part of the product adopts the portable box design, which is convenient to move. Gun type aiming accessories for easy use and to aim at. In recent years, governments around the world have begun buying large amounts of such equipment to control drones. Such products have been used repeatedly at World Economic Forum to maintain order. Has an auxiliary lighting sight, it can block drones well even at night. It can effectively jam all drone signals, even military drones.
$13833.98$25125.70
Perfect Defender Shield Drone Jammer 2.4G 5.8G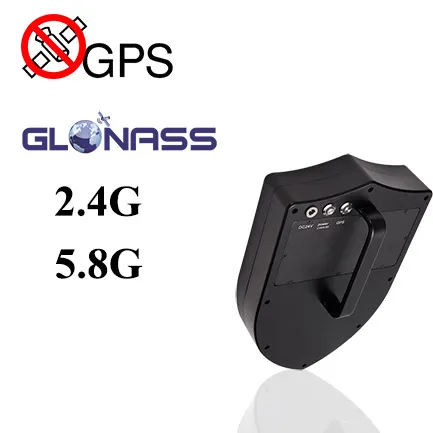 This is the latest drone jammer. Professional grade military design is adopted. It's very light and easy to carry. It can jam remote control signals of low-flying drones, and it doesn't affect other signals. The effective jamming distance is up to 2000 meters. Effectively exorciate the drones or crash-landing.
$6379.99$11249.98