Defense Drone UAV Scramblers
Defense System for UAV Drone Scramblers
If you need a method that's even more subtle than physical interception, then frequency jamming may be what you need, and the Drone Jammer is one such solution. It scans the skies for drones and jams their control signals using its own high-powered radio signal.

The jammer only affects frequencies at 2.4Ghz, 5.8Ghz and GPS/GLONASS (optionally). Emergency broadcasts, cellphone communication and other dedicated channels will not be affected, according to Perfectjammer

The vast majority of drones can be controlled in real time with a remote control that communicates with the drone using radio waves. A device that jams the signal, such as the E1000MP Portable Drone Jammer, can therefore effectively prevent a drone from flying.
HDT-1000 Newest 8 Bands Portable Drone Jammer 2.4G 5.8G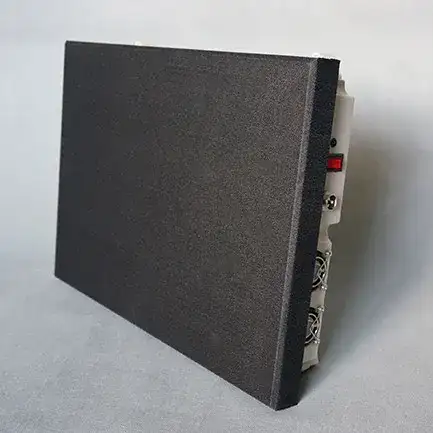 This product is an upgrade of HDT-960. It has the characteristics of strong concealment, simple operation and convenient carrying. The drone is usually operated remotely with a 2.4ghz or 5.8ghz wireless signal. Some drones also use GPS signals to locate operations. This drone jammer can quickly block 2.4 GHZ 5.8 GHZ drone signals and GPS signals. The maximum jammer range is 100 meters, which is the killer of low-altitude drones.(Note: jamming distance varies with the surrounding environment)
$681.00$1514.16
Waterproof Drone RF Jammer Portable Large Range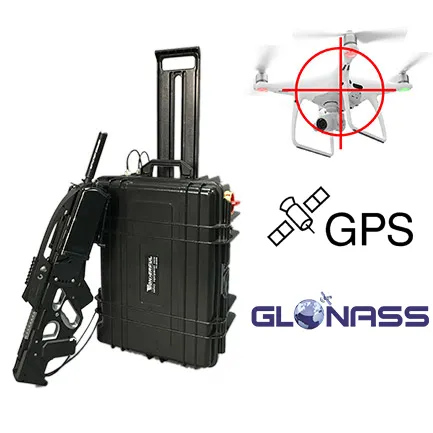 This product has a very large jamming range and high jamming accuracy, can shoot down the high altitude unmanned aerial vehicle. The maximum range of jamming is up to 1500 meters. All kinds of drones can be shot down quickly. It can be used either in response to terrorist drone attacks. Can effectively defend against drone assassination. We accept the latest military uav jammer customization. It can block GPS, BeiDou and GLONASS signals at the same time and effectively target the latest military drones.
$13833.98$25125.70
WRJ-02 Drone Gun Jammer 500-1000 meters 1.5GHz 2.4GHz 5.8GHz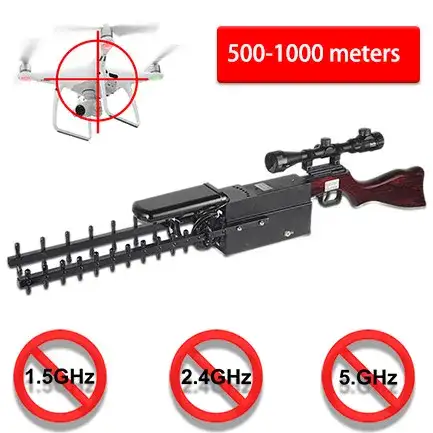 Unique segmented jamming function. Can separate jamming GPS positioning, image transmission and unmanned aerial vehicle (uav) remote control function. When you open the 1.5 G switch, drone will cease to receive GPS signals. At this point, the drone will return go home because it can't receive a GPS signal. When opening 2.4 G and 5.8 G switches, the image transmission and uav control can be disturbed. When you open all the switch, unmanned aerial vehicle will hover and slowly descend
$6398.68$11052.89
Defense Drone UAV Scramblers Related Tags