Buy Cheap Drones Signals Disruptor
What is the best way of interference of drone? One of the most popular forms of counter-drone technology is a drone jammer. A drone signal jammer can interfere with the frequencies needed to pilot a drone, making a drone frequency jammer an essential part of the tool kit for law enforcement, first responders and government agencies. European countries, led by Britain, are already using such devices to manage the chaotic drone market

Given the recent drone attack on the Venezuelan president and the high profile mailbomb terrorist attacks in the United States, a new counter-drone jamming device to be utilized at large outdoor events by law enforcement without raising public concern was recently developed.

The system can be extended to include an auto- mated integrated jammer that effectively prevents a drone from receiving RF signals, thus forcing it into a fail-safe mode, e.g. to hover and land safely or to return to its point of origin. The interference is extremely selective, so that other RF channels are not impaired. Besides being highly selective, the jammer is extremely directional and only jams in the direction of the incoming UAV.
HDT-960 Desktop Drone RF Jammer 8 Bands 2.4 GHz+GPS+5.8 GHz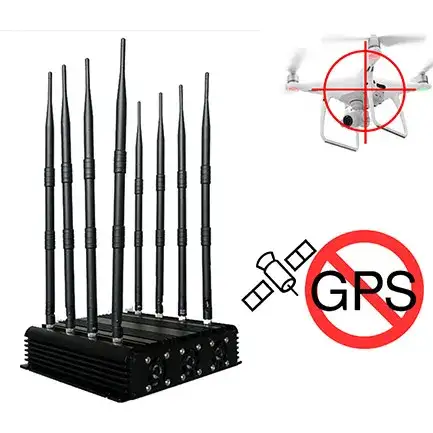 With the development of science and technology, the popularity of uav is getting higher and higher. More and more people are using drones. But there are big problems with the regulation of drones. Wiretaps, candid camera, and all kinds of intrusions of privacy and personal security. To deal with this situation, you can choose to use the drone signal jammer. The drone is usually operated remotely with a 2.4ghz or 5.8ghz wireless signal. Some drones also use GPS signals to locate operations. This drone jammer can quickly block 2.4 GHZ 5.8 GHZ drone signals and GPS signals. The maximum jammer range is 150 meters, which is the killer of low-altitude drones.
$1070.99$1524.60
WRJ-02 Drone Gun Jammer 500-1000 meters 1.5GHz 2.4GHz 5.8GHz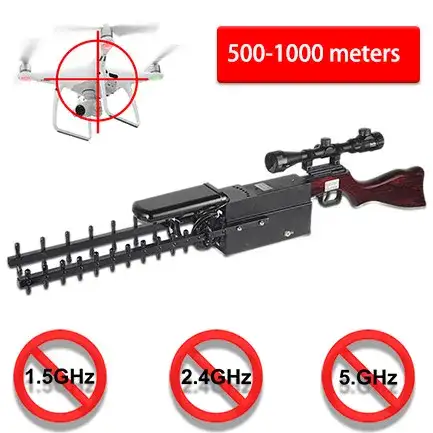 This is a newest gun uav jammers. Using the latest technology, it can jamming frequency bands of 1.5ghz, 2.4ghz and 5.8ghz. Output power can be adjusted. It has independent frequency band switch, specific frequency bands can be interfered as needed. Adopt unique gun design, cooperate with auxiliary sight can quickly shot down high altitude UAV. It has very large jamming range, up to 500-1000 meters.
$6398.68$11052.89
Perfect Defender Shield Drone Jammer 2.4G 5.8G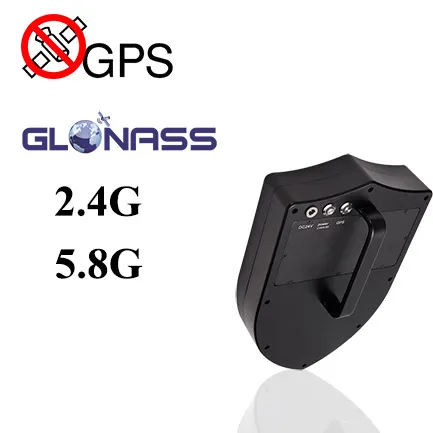 This is the latest drone jammer. Professional grade military design is adopted. It's very light and easy to carry. It can jam remote control signals of low-flying drones, and it doesn't affect other signals. The effective jamming distance is up to 2000 meters. Effectively exorciate the drones or crash-landing.
$6379.99$11249.98
Cheap Drone Disruptor Related Tags