Anti Drone Disruptor System
Newest System for Anti-Drone Disruptor
Drone Jammer Gun Pro is a lightweight, soft kill, drone jamming solution for use on remote weapon stations. The Drone Gun RW module will force drones (single or swarm attack) into a fail-safe mode where they will either hover or slowly descend. This function will allow the operator to utilize a kinetic weapon or other mounted equipment to more easily neutralize the target. Included Perfectjammer jamming technology has been developed specifically for drone mitigation, offering an effective response to an urgent threat. This solution is also the one governments are most likely to use. At present, Russia has been in widespread use throughout the device.

The rapid proliferation of consumer drones poses a security threat. Portable drone jammers are being used to combat rogue consumer drones. Their shortcomings can be offset by deploying them together with other counter-drone systems.

The proliferation of consumer drones and their misuse have spawned quite a few novel counter-drone systems. There are kinetic systems capable of shooting drones down. Interceptor drones that can deploy a net to catch other drones are also available. Even predatory birds are being trained to catch drones in midair. Effective at up to two kilometers, the portable drone jammer has been one of the more effective counter-drone systems thus far.
DB260P Protable Waterproof Drone Frequency Large Range Jammers 2.4G 5.8G GPS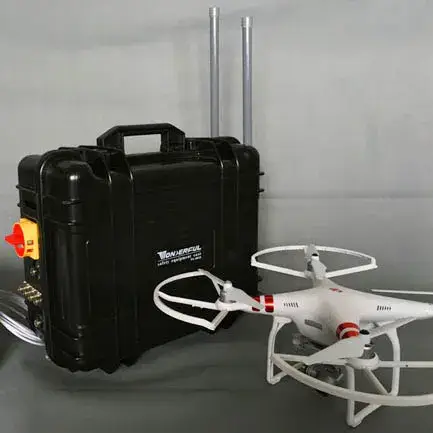 Ultra-long range jammer, maximum radius of up to 1500 meters. Waterproof design, adapt to a variety of use environment. Can jamming a variety of band drone signals, fully protect your personal privacy and security. drone frequency jammer have a large range to blocker rf drone. The effective jammer range is about 1500 meters
$22759.98$41365.43
Perfect Defender Shield Drone Jammer 2.4G 5.8G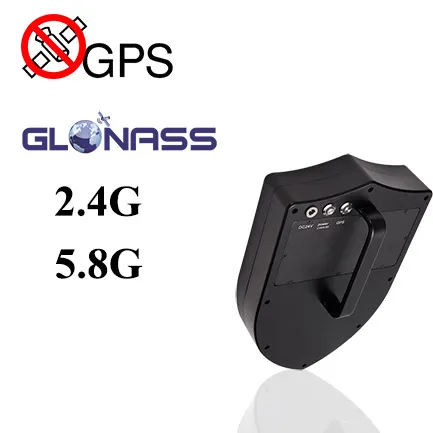 This is the latest drone jammer. Professional grade military design is adopted. It's very light and easy to carry. It can jam remote control signals of low-flying drones, and it doesn't affect other signals. The effective jamming distance is up to 2000 meters. Effectively exorciate the drones or crash-landing. Aluminum shell, heat dissipation performance. The effective jamming distance is 300-2000 meters. Control switch independent design.
$6379.99$11249.98
WRJ-02 Drone Gun Jammer 500-1000 meters 1.5GHz 2.4GHz 5.8GHz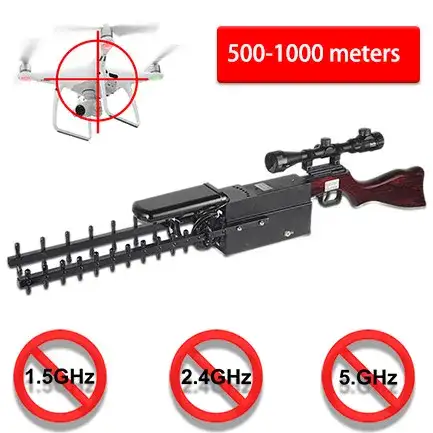 Unique segmented jamming function. Can separate jamming GPS positioning, image transmission and unmanned aerial vehicle (uav) remote control function. When you open the 1.5 G switch, drone will cease to receive GPS signals. At this point, the drone will return go home because it can't receive a GPS signal. When opening 2.4 G and 5.8 G switches, the image transmission and uav control can be disturbed. When you open all the switch, unmanned aerial vehicle will hover and slowly descend
$6398.68$11052.89
Anti Drone Disruptor System Related Tags