Cell Phone Jammer 10-20 M
Cell Phone Jammer 10-20 M
The range of such cell phone jammer is larger than that of the personal jammer. Generally speaking, the interference function is no longer so single, can interfere with several kinds of mobile phone signal. Based on this, this kind of jammer is more widely used. You can see them in libraries, movie theaters, coffee shops.

Such jammers are mainly used indoors and can interfere with signals within a certain range. So these jammers are very popular in North America and Europe. Many families, especially those in small towns, choose to use these jammers
8341CA-4-KT Desktop Mobile Phone Jammer Power Adjustable 4 Bands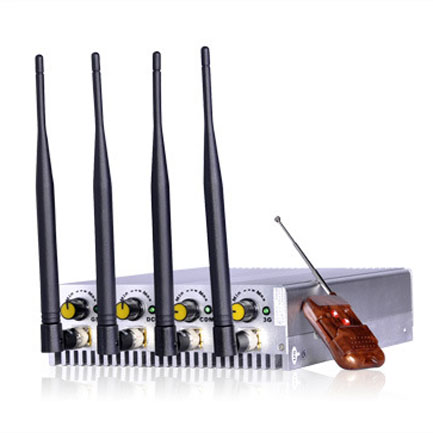 This product has a power adjustment function, according to the need to adjust the jamming range. At the same time with remote control function, no need to personally open the switch. The equipment can be used in conference rooms, gas stations, hospitals, theaters, recording studios, banks, churches, classrooms, houses, etc.
$227.69$459.98
Handheld Jammer 2G 3G WiFi Jamming 5 Bands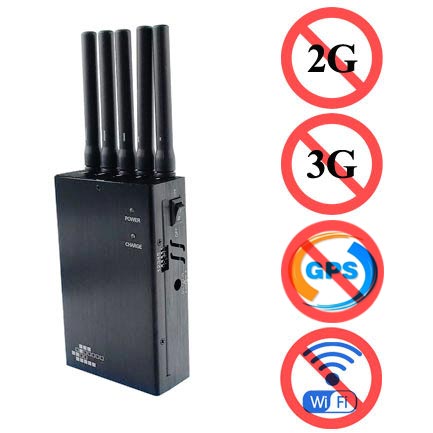 This 5 bands jamming device has a very portable design, and it is very convenient to remove the antenna. There are separate frequency switches that can be turned on or off as needed. Effective prevention by GPS satellite positioning tracking, to protect your whereabouts of privacy and confidential information. While effectively jammer CDMA / GSM / DCS / PHS / 3G and other mobile phone signals.
$253.90 $577.53
EO-08-007 8 Bands Portable Cell Phone Jammers 2G 3G 4G LTE Lojack GPS WiFi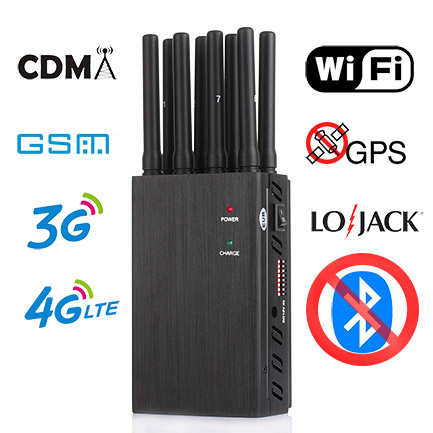 As the most popular handheld jammer, this product has a small size, easy to carry. Can block 8 bands frequencies, and have a very large jammer range. Has separate frequency control switch, you can turn on or off the frequencies you want to jamming as needed. With car charger, it can be used while driving. This product has the perfect heat dissipation system, it can run continuously for a long time. The shell is made of heat-conducting metal with good heat dissipation. Generally speaking, the larger the interference range, the stronger the interference performance, the heavier the jammer device, and it is inconvenient to carry. But the device is an exception. This 8-bands handheld jamming device not only has a good jammer performance, can jamming up to 40 meters; but also has good portability, the device size is only 130mm*80mm*38mm, weight is only 800g. Performance is comparable to desktop jammer in all respects. It's a very good product.
$308.69$584.48
10-20 M Cell Phone Jammer Related Tags