The world is becoming tech-savvs because of influence of advanced gadgets and heavy use. Though these complicated electronics have made job easier but most cases their negative characteristics come to notice. Majority of us may have gone through embarrassing state of getting troubled due to mobile phone ring when we were attending interviews, seminars or talking with customers. A single ring of cell phone will ruin the spirit and make us feel annoyed. In case of the cellular jammer and communication technology, signal jammer do not affect functioning of other electronic gadgets except cell phones. Portable gsm jammer are turning out be perfect choice for places such as concerts, movie theaters, high profile organizations, temples and churches. Earlier, it was only used in defense sectors. Moreover, today it has been utilized in many other sectors too. Thus, the cell phone jammers are very useful gadget as it functions well even when people fail to turn off their cell phones. One place where cellphone jammers can be particularly useful is at a school or university. By blocking cell phone signals, students cannot become distracted by their phones. In addition, they cannot cheat by sending text messages to one another during exams. High security premises, such as prisons and detention centers, can also benefits from a jammer because it can prevent illicit communication between inmates and visitors. The United States is already allowing some prisons to use jammers to prevent inmates from using their phones to avoid remote crimes. It is expect that that crime rate will decline further following this measure. The prison has been in negotiations with the FCC to try to use jamming devices in some state prisons to prevent prisoners from reaching out to the outside world.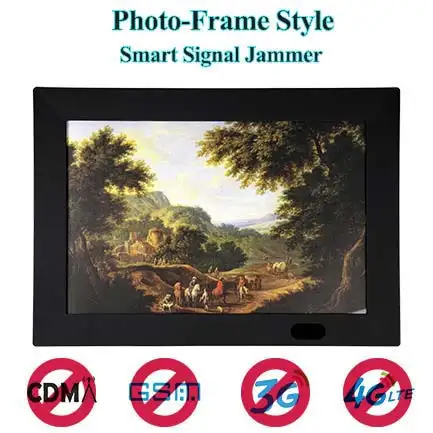 Photo Frame 3G GSM Disruptor Device
This disruptors Using a new photo-frame design, has a very high hidden performance. Able to jamming all cell phone signals, allowing you to enjoy a quiet moment. Output power of each band can be adjusted by knob and jamming range can be regulated. wireless remote control available to ON/OFF the device in a range of 10 meters. Each band has a separate switch and has LED display light. Super hidden photo frame type jammers, built-in 7 bands jamming device, can block with the vast majority of mobile phone signals. Applicable to church, court, office and other places
$948.49 $1436.13 More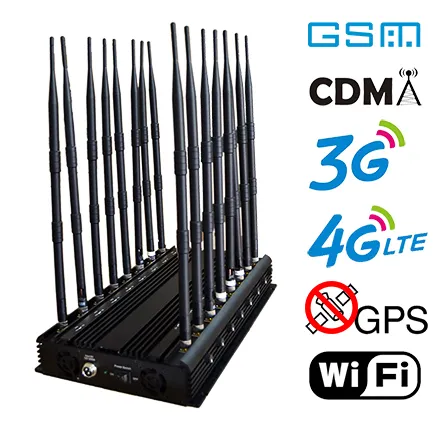 This Device has comprehensive jamming bands, can jamming GSM frequencies, WiFi, GPS, Walkie - talkie and so on. This product has a very large range to jammer signals, can block all signals within 70 meters, able to meet the needs of the vast majority of situationsa. This disruptors can adjust or turn off any single band without influencing the other bands operation. Can be applied at meeting rooms, conference rooms, museums, galleries, theatres, concert halls, churches, temples, restaurants, classrooms, training centers, factories, banks, trains, bus and more.
$1078.34 $1915.16 More