Cell phone in prison - a serious problem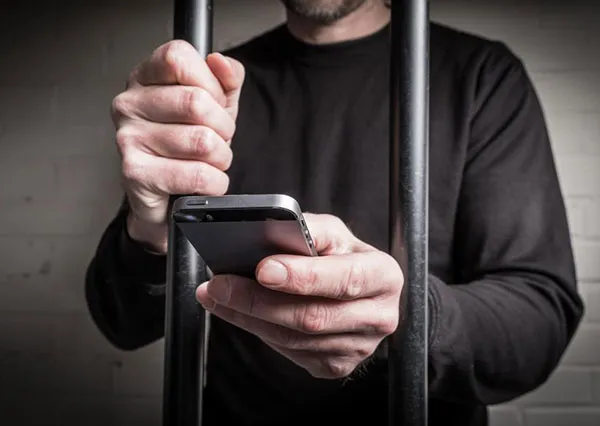 Contraband cell phones are a real problem. They have allowed prisoners to surreptitiously deal drugs, run illegal businesses and even organize murders, right under the noses of guards and wardens. A single South Carolina prison recently detected 35,000 cell phone calls and texts over a 23-day period. This is undoubtedly a horrible fact for the prison authorities. However the authorities there are plenty of hidden method of mobile phone is always helpless. Is that why the prison system has been telling the FCC that it needs to open up access to cell phone jamming devices. Some prisons in the United States already use the devices
That's why FCC Commissioner Ajit Pai and South Carolina Governor Nikki Haley are pushing to cut off prisoners' access to cell phones. Prisoners are allowed to make phone calls, but only on special landlines that can be monitored by law enforcement. But, apparently, it didn't work. We still can see the inmates in secretly use cellular phones.
What will happen to cell phones in prison?
A cell phone in a prisoner's possession allows him to contact outside partners in crime to coordinate escape plans, thereby creating life-threatening situations for the guards and public surrounding the institution. More often, reports from correctional facilities overwhelmingly indicate that hidden cell phones have been used to harass the victims of their crimes, or an inmate repeatedly intimidates his victim in an effort to persuade the victim to recant the charges or change his story to instill suspicion in the testimony.
Many detainees continue to organize their illegal drug trades from inside prison walls. A cell phone is an essential means for the detainee to keep the drug organization running and closely controlled. By contacting visitors before they arrive, prisoners can arrange for a transfer of drugs and drug paraphernalia, allowing them to continue the same illegal habit that placed them in custody. Frequently, the family endures harassment from its incarcerated relative, demanding bail when the family recognizes the relative is better served remaining in custody.
The federal Bureau of Prisons, which houses 185,000 inmates, confiscated over 5,000 cell phones from inmates in 2016, but the number rose last year, said Rosenstein, citing preliminary. The deputy AG said his office recently prosecuted the case of a Tennessee inmate used a smuggled cellphone to download and send child pornography and another case of a North Carolina gang member who used a cellphone to order an attack on a prosecutor's father.
Signal Jammer Perfect solution to cell phone problems in prisons
The prison department has installed two mobile phone jammers in the central prison for men to thwart high-risk prisoners from contacting their associates using mobile phones smuggled into the prison.
Since the
mobilephone jammer
has an area cover of 50m to 60m, the two blocks would be covered. It will prevent mobile phones from making or receiving calls. It would prevent gangsters and criminals from keeping in touch their associates to carrying out their activities outside.
The DIG further said the technical team would also visit Cuddalore and Coimbatore central prisons in the coming week to install jammers there. "Since the notorious criminals, fundamentalists, LTEE and Naxals are lodged in the central prisons in Vellore, Coimbatore and Cuddalore, the department is taking measures to install jammers in these prisons soon," he added.
Superintendent of prisons, G Shanmugha Sundaram said they carried out a trial of the jammers on Monday and would continue it for the next two days. They would be fully functional from Wednesday. "It will make our work easy and also avoid unwanted problems inside the prison," he said.
The
gsm jammer
needs to be destructive only to the downlink side of the cellular receiver and generate a strong enough band of carriers that inhibits a cell phone from logging into a data channel. This probably means no external antennas are needed, which limits the potential interference to most adjacent property cell sites. Individual rules could be considered to restrict or prohibit the authority of a facility to own and operate a jamming device is there is a cell site in close proximity. Potential interference can be further controlled by the use of leaky coax instead of a distributed antenna system.